Top teddy! Rare Steiff bear makes £4,000 in toy auction
CHILDHOOD dreams realised thousands of pounds at Richard Winterton Auctioneers' recent specialist toy auction in Tamworth.
Star Wars, Action Man, model trains and diecast vehicles were among the lots going under the hammer, with bids flying in from all over the country and internationally.
Amongst all the interest from collectors, one lot still stood out – a wonderful vintage Steiff teddy bear.
This 72cm tall teddy had clearly been well-loved during his 120 years and treasured he certainly continues to be, fetching a magnificent £4,000 hammer price!
The rare bear – complete with working 'growler' sounding when the toy is tilted and trademark Steiff button in ear – has aged to a dignified blond but would have been white when new.
All that time ago, white was a less popular colour and teddies were generally bought in darker colours as those would take longer to look grubby!
Fast forward more than a century and this particular bear was certainly coming up roses for our delighted client!
You can watch the sale with Tom Winterton on the rostrum on our Facebook page.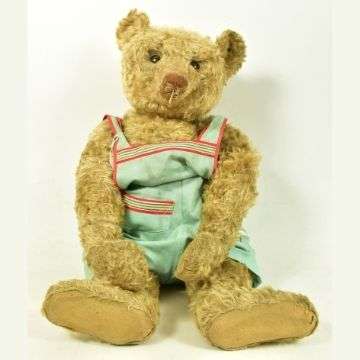 Other lots included a wonderful collection of boxed Corgi and Dinky diecast vehicles in superb condition with original accessories, totalling a hammer price of in excess of £6,500.
And we were left saying "holy bidding, Batman!" as a 1960s Corgi Batmobile and matching Batboat from the collection totalled £660!
Presented in around 40 lots, this impressive single owner collection had been lovingly treasured by the Midlands vendor – in fact our toy valuer Jon Price said it was one of the finest collections of diecast he'd ever had the pleasure of cataloguing!
Staying with the 60s, a Japanese tinplate walking moon explorer sold at £520.
Five lots of Action Man totalled £770, including a pilot figure making £260, and vintage Star Wars figures and fighters fetched £320.
What a joyful day! It's a lot of fun to research and catalogue so many things which have brought such joy to people over the years; seeing these special collectables find a new home so successfully, where they can carry on making more happy memories, is another dream come true.
To book a free valuation of all types of vintage toys, trains and diecast, telephone 01543 251081 or email office@richardwinterton.co.uk.