Space Age design! Ab Rogers' pod bed
TO SLEEP, perchance to dream – and fly amongst the stars?
Galactic dreams must surely have been inspired by this space-age bed, coming up for sale at Richard Winterton Auctioneers on September 18.
One of just two bespoke pod beds designed by architect Ab Rogers – son of the architect Richard Rogers – is now on display at The Lichfield Auction Centre, Wood End Lane, Fradley Park.
The opposing pair of bright red beds were built for the children of art dealer Kenny Schachter.
Rogers created the colourful pods from fibreboard painted with a high gloss finish and incorporated space for a TV as well as a mattress.
There is also a pneumatic door on one end opened by a magnetic button – ideal as a crafty 'escape hatch' in case the pod comes too close to an asteroid!
The children provided pictures of race cars, spaceships and SpongeBob SquarePants to help inspire the design.
READ MORE: Nine lots we LOVE in our September sale
Tom Winterton, pictured with the pod, is delighted to be marked such a bold piece of design.
''Ab Rodgers has said his dyslexia helps him as a designer. He sees colours and ideas in a way that enables him have an extraordinary vision to create unique designs.
"The bed we have for sale is one of a pair to ever be created, which begs the question as to where the other pod is.
"Perhaps this auction will help bring that one to light too – wouldn't it be fantastic for both beds to be reunited?'"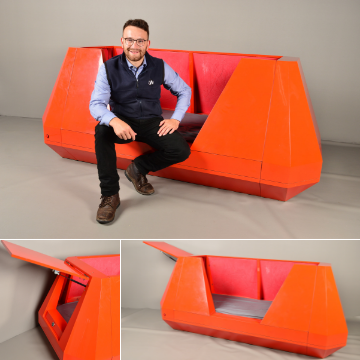 Richard Winterton Auctioneers' Fine & Decorative Arts Sale takes place at The Lichfield Auction Centre, Wood End Lane, Fradley Park, on Wednesday, September 18, from 10am.
Viewing: Saturday, September 14, from 9.30am-12noon; Tuesday, September 17, from 9am-4pm and on day of sale from 8.30am.
You can look through the catalogue and bid online here.
Email office@richardwinterton.co.uk or telephone 01543 251081.