Ruskin Pottery and early C20th French ceramics in single owner Lichfield auction
CERAMICS by one Britain's most influential potters who produced world-class work from a studio in the heart of the Black Country are coming up for auction.
Seventy lots by Ruskin ranging from the early years of production up to the studio's final years in the 1930s go under the hammer in a special Single Owner Collection sale with Richard Winterton Auctioneers from The Lichfield Auction Centre on Tuesday, August 17.
The auction's 250 lots from the same estate in a Derbyshire village include ceramics by early 20th century French studios Dalpayrat, Lachenal and Pierrefonds plus a selection of cameras and wristwatches.
Founded in 1898 in Smethwick – then part of Staffordshire – Ruskin quickly established itself as a world leader for pottery combining complex processes and unique glazes with functionality.
Fine examples of Ruskin pots, bowls, cups, lamps and decorative panels designed to be set into jewellery or applied to clocks all feature in the August 17 auction.
"It's an impressive collection which must have taken years to accumulate," said valuer and auctioneer David Fergus.
"Ruskin experimented with glazes and everything was handmade with some pieces thrown and some moulded.
"This collection includes many different shapes and sizes, pieces where you can clearly see how Ruskin was inspired by Chinese ceramics plus glazes including crystalline, lustre, matt and high fired gloss.
"Because each piece, having been glazed by hand, was fired with subtle differences in temperature due to its position in the kiln, no two pieces were ever the same.
"This pottery was unique and no-one had ever seen anything like it before anywhere, which led to the studio winning lots of awards at home and abroad."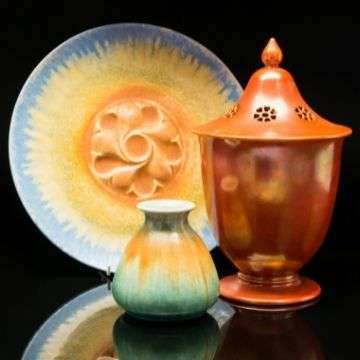 Ruskin's delicate eggshell pottery was made thick so that it would hold its shape; it was then painstakingly turned to make it wafer thin.
"These were complex shapes and lots of pieces were lost in this exacting process," added Mr Fergus.
"This is an exciting opportunity for not just Ruskin scholars but ceramics collectors in general – a wonderful snapshot into the achievements of the Black Country pottery whose influence has spread to every corner of the globe."
Founded by Edward R Taylor, a member of the Royal Birmingham Society of Artists and Birmingham School of Art principal, Ruskin Pottery was named after the Victorian writer, philosopher and artist John Ruskin.
Ruskin's ideas propelled the Arts and Crafts Movement, in which Taylor was an influential figure.
The latter's son William Howson Taylor, who went on to run Ruskin, became one of the principal exponents of high fired techniques.
When the Oldbury Road studio closed in 1935, the formulae for the glazes and all the pottery documentation were destroyed in a bid to ensure the unique products could never be replicated.
The Single Owner Collection from The Lichfield Auction Centre at Fradley Park starts at 9.30am on August 17.
For auction enquiries and to book an appointment to view or for a valuation, telephone 01543 251081 or email office@richardwinterton.co.uk.