New Watch & Designer Sale
RICHARD Winterton Auctioneers has announced a new department dedicated exclusively to watches and designer goods.
Items are now being sought for inclusion in a special auction at St Mary's in the Market Square, Lichfield city centre, at 6pm on July 15.
These include designer handbags, purses, scarves, shoes and lady's accessories such as gloves, hats, umbrellas, pens, belts, small leather goods, sunglasses and perfume.
Gentleman's accessories including designer gents' bags, wallets, cufflinks, shoes, money clips, ties, belts, pens, lighters, sunglasses, luggage and briefcases are also sought.
Famous names to watch out for include: Rolex, Cartier, Chloe, Valentino, Fendi, Alexander McQueen, Baccarat, D&G, Mulberry, Tom Ford, Kenzo, Marc Jacobs, Bulgari, Annoushka, Mont Blanc, YSL, Dunhill, Patek Philippe, Jaeger-Le-Coultre, Maxamara, Gucci, Tiffany & Co., Emporio Armani, Chanel, Hermes, Bulgari, Burberry, Prada, Dior, Vivienne Westwood, Links of London, Breitling, Georg Jensen, TAG Heuer, Omega, Tudor, Rado and Pandora.
Gemmologist Heather Callaway said: "This is a wonderful opportunity to recycle pre-loved designer and luxury items and convert the proceeds into your latest designer crush."
Vintage jewellery expert Louise Ludlam-Snook added: "Items ideally need to be in good condition and it's worth having a good look for original receipts, boxes and packaging too as this all adds to the interest and achieving top prices at auction."
More details will be announced in the coming weeks. The sale will include a charitable element supporting the We Love Lichfield fund.
Watch specialist Ben Winterton said: "This is another exciting development for us as a Lichfield family firm – it's a new specialist sale in a new location and we are looking for some of the biggest names and designers in the world of fashion and watches.
"As usual the auction will also be online and we are expecting to attract international attention."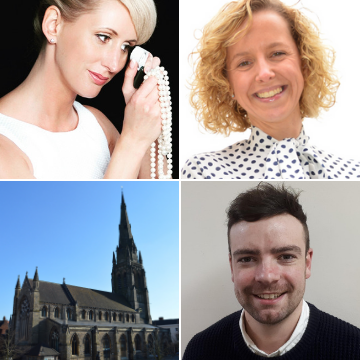 Pictured above, clockwise from top left: Heather Callaway, Louise Ludlam-Snook and Ben Winterton are looking forward to the new Watch & Designer Sale at St Mary's in the Market Square
As well as free weekly valuations (including watches and jewellery) from 9.30am-4pm every Tuesday at The Lichfield Auction Centre at Wood End Lane, Fradley Park, Richard Winterton Auctioneers offers free specialised valuations of jewellery and watches from 10am-4pm every Monday (except bank holidays) upstairs at St Mary's in the Market Square, Lichfield city centre.
Valuations will also take place in Tamworth and Sutton Coldfield on three upcoming Mondays – April 29, May 20 and June 24.
Experts will be at The Castle Hotel, Ladybank, between 11am-12.30pm on those dates and at The Trinity Centre, Church Hill, Mill Street, Sutton Coldfield between 2pm-3.30pm on the same day.
Email ben@richardwinterton.co.uk