Isle of Man Pobjoy Christmas 50p coin collection worth a mint in Lichfield auction
LICHFIELD'S auctioneer is keeping Christmas all year round with a sparkling collection of rare Isle of Man coins.
The haul of mostly 'diamond finish' 50 pence coins by Pobjoy Mint is expected to realise at least £3,000 in Richard Winterton Auctioneers' Antiques & Home Sale on Monday, February 22.
Due to Covid-19 safeguarding, the auction will be held behind closed doors and online-only live from The Lichfield Auction Centre, Fradley Park.
It includes more than 100 of the special limited edition 50 pences dating from 1980 to 2012 and including coloured and plain coins with some sterling silver proofs.
There is a mixture of the old-style large 50p and the smaller shape currently in circulation.
A number are boxed or mounted in Christmas cards reflecting the festive subject of the commemorative coin it contains.
Of special significance is the very rare, coloured diamond finish Pobjoy Isle of Man 50p 'Twelve Days Of Christmas' coin, mounted on an angel card as a Christmas tree decoration, pictured above and, below, in close-up.
Depicting the six geese a-laying, the 2010 coin is still legal tender on the Isle of Man – but is estimated to fetch £300-£400 at auction.
Incredibly, the collection includes two copies of the rarity as Lots 146 and 156.
Also of particular note is the 2003 Isle of Man Pobjoy Christmas diamond finish 50p of Raymond Briggs' Snowman and James – the sale includes a pair, one coloured and one plain diamond finish, both on card with certificates of authenticity, as Lot 142, pictured below.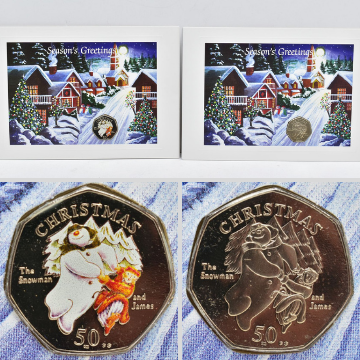 Numismatics specialist Phil Bridge said: "It is so unusual to have such a large amount of Isle of Man coins and it is really quite amazing to have them all in one go.
"The Christmas decoration coin is such a clever idea but it doesn't seem to be one which caught on and as such they are a real scarcity.
"It would be a wonderful Christmas present for a numismatist!
"With the Snowman coins, the coloured series were taken from an already small circulation of 30,000 plain Snowman coins – and of that 30,000 only a certain amount were taken to one side to be enhanced with colour, possibly just a quarter.
"It's not until you go through the collection you realise what special coins it contains.
"This is a tremendous opportunity for UK coin collectors."
The sale also includes a Gibralter Christmas 50p and a number of UK executive proof sets dating from the 2000s.
The sale starts at 9.30am and the catalogue is available to view online now.
For a free, Covid-secure 'virtual valuation' of coins or banknotes, email office@richardwinterton.co.uk or telephone 01543 251081.