Exemplary jewellery in Fine Arts & Specialist Sale
FOR the Fine Arts & Specialist Sale, Richard Winterton Auctioneers has a multitude of exemplary jewellery items, writes Heather Callaway.
Looking over the catalogued lots is rather like trying to choose your most favourite chocolate from the most delicious awe-inspiring Christmas selection box! Very hard to choose from indeed.
However, if I had my choice and deep pockets, I would choose these three for my private collection.
Lot 42: An impressive large sapphire and diamond centre piece necklet
Centring on a principle oval mixed cut blue sapphire, double claw set, enclosed within a double diamond border.
This pendant is accompanied by a gemstone report from the Swiss Gemmological Institute (SSEF). The report states the whopping 18.04ct Sapphire to be natural and 'no indications of heating'. Colour 'blue of medium strong saturation'.
Sapphires in this large size category are regarded as rare, rarer still is the fact this large sapphire has had no intervention of heat treatment to induce the mesmerising strong blue colour.
Most people are unaware that almost all sapphires are heated at extremely high temperatures to "enhance" their colour and clarity. The beauty of this stone is entirely natural, the only intervention has been to be cut and facet the stone to show its true splendour and beauty.
This coupled with gemstone report from one of leading and most prestigious gemstone laboratories in the world certainly instills confidence. (Est. £30,000-£40,000*)
Lot 50: A stunning bespoke large diamond ring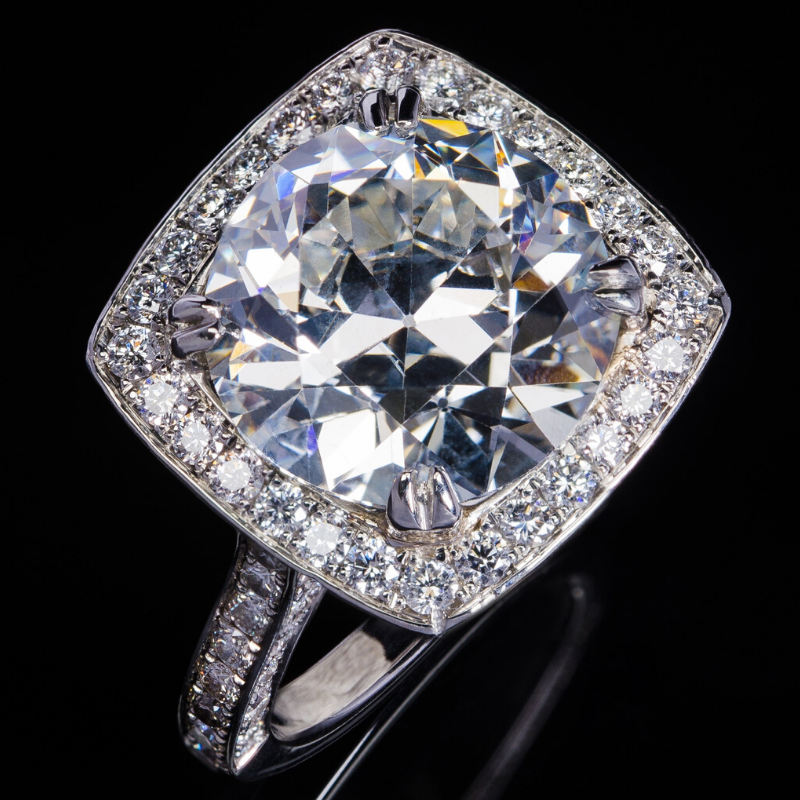 My second (a very close second which has adorned the hand of nearly all the female employees here at Wintertons!) is a stunning modern bespoke large diamond ring. Centring on a huge 4.46ct transitional round brilliant cut diamond, enclosed within a micro-paved cushion diamond halo border.
This really is a 'wow' ring and sure to capture the attention from admirers from a distance.
Again, we are proud to ensure buyers' confidence as this ring is accompanied by a diamond jewellery report from AnchorCert gemstone laboratory.
The report states the centre natural diamond weight 4.46ct, colour K, clarity SI1. The smaller micro-paved modern round brilliant cut diamonds totalling 1.25ct. That's an astonishing total diamond weight of 5.71ct! (Est. £20,000-£30,000*)
Lot 64: An 18ct gold Rolex Oyster Perpetual Pearlmaster
Thirdly, a quality original timepiece. A stunning lady's Rolex. The 18ct gold Rolex Oyster Perpetual Pearlmaster, mother of pearl diamond dot dial, and diamond bezel and signature Pearlmaster bracelet. Exemplifying a delicate balance of elegance and style.
Model number 80318, serial number A658334. Circa 1999. Together with original box, papers, red silk handkerchief and red leather wallet. A beautiful watch in pristine condition. (Est. £7,000-£9,000*)
This terrific trio are among a huge selection of jewellery and watches in Richard Winterton's Fine Arts & Specialist Sale, now rescheduled for Monday, April 27.
View the catalogue here.
As well as fine jewellery and watches, the auction features silver, works of art, wine, whisky, antique paintings, modern pictures, decorative design, porcelain, glass, cabinet toys, coins, medals and fine furniture.
Telephone 01543 251081 or email office@richardwinterton.co.uk.
*All prices are subject to buyer's premium of 24% inclusive of 20% VAT