'Exceptional' World War One double gallantry medals group at Tamworth auction
GALLANTRY medals awarded to a brave soldier who served in both world wars are set to sell for thousands of pounds when they go under the hammer at Tamworth's new auction house.
Richard Winterton Auctioneers' latest saleroom at 34-35 Church Street opened on Monday, October 11, and preparations are now well underway for the town's first live auction in decades.
The Collectors Sale from 10am on Tuesday, October 26, will see stamps, ephemera, militaria, records, audio equipment, cameras, toys and model trains go under the hammer.
Lot 43 is the 'exceptional' World War One double gallantry group to Percy Pearson, expected to fetch £4,000-£6,000.
The unmounted medals are: George V Distinguished Conduct Medal, George V Military Medal, British War and Victory medals, Territorial War Medal, WW2 Defence and War medals, George V Territorial Efficiency Medal and George VI Cadet Forces Medal.
All are named to Pearson except the WW2 Defence and War medals which were unnamed as issued.
Company Sergeant Major Percy Pearson served with the Nottingham and Derby Regiment throughout World War One.
This regiment formed part of the 46th North Midland Division and saw much action in the conflict on the Somme battlefields and later in the First World War at Kemmel in Flanders, Belgium, and attacks on the infamous Hindenburg Line German defences.
He was awarded the Military Medal for 'immediate award for his gallantry and devotion to duty' at Kemmel during the second German offensive between April 12-17 1918.
He had previously been awarded a wound strip for actions on or around August 9 1917 and later in the war would be decorated with the Distinguished Conduct Medal for 'marked gallantry and initiative'.
The citation said: "When his company attacked the Germans and reached their final objective near Montbrehain on October 3 1918, he noticed that their right flank was open.
"He immediately organised a strongpoint, which during the ensuing counterattack inflicted heavy losses on the enemy.
"When ammunition was running short he organised a party under heavy fire and got ammunition to the firing line.
"It was owing to his fine actions that the company was eventually able to repel the attack."
Pearson's deeds were to be later recorded in a book, British Gallantry awards – The Sherwood Foresters 1854-1970.
He served in the Home Guard during the Second World War – and in 1953 was the only WW2 Home Guard officer to be asked to attend the Queen's Coronation parade – and also had a role with the Army Cadet Force in Derby.
An associated ephemera collection includes letters and contemporary news cuttings on the award of Pearson's medals.
"This enlisted soldier from South Derbyshire represented his regiment with distinction throughout the First World War and beyond into WW2 and then later in the Cadet Force role," said Nick Thompson, military specialist with Richard Winterton Auctioneers.
"His military service and phenomenal bravery is extremely well documented but details of Pearson's early life are still clouded by the mists of time, as is information about his latter years.
"As such, there is still plenty of scope for further research to find out more about this exemplary soldier who devoted himself to his country."
Consignments of items to go straight under the hammer are welcomed from 9am-4pm Monday to Friday at the new auction house in Lower Gungate.
There will also be free valuations daily by appointment Monday to Friday, with various specialists on different days.
Tuesday, October 19 will be a chance and discuss medals and militaria with Mr Thompson and meet coins valuer Phil Bridge.
Friday, October 15 and 22 will see Stuart Hay valuing cameras, hi-fi and records.
To book, email tamworth@richardwinterton.co.uk or telephone 01827 217746.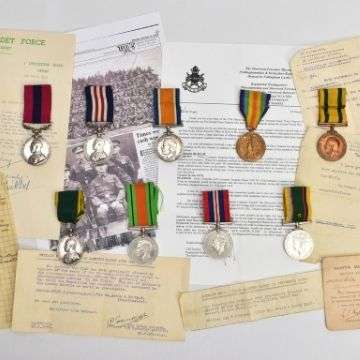 In detail: Percy Pearson's unmounted medals
George V Distinguished Conduct Medal named 200214 C. S. Mjr P. Pearson MM 1/5th Notts & Derby Regiment
George V Military Medal, named 200214 Sjt P. Pearson 2/5th Notts & Derby Regiment
British War & Victory medals named, 200214 Wo.CL2. P. Pearson Notts & Derby Regiment
Territorial War Medal named, 200214 Sjt P. Pearson, Notts & Derby Regiment
WW two Defence & War medals (un-named as issued)
George V Territorial Efficiency Medal named, 4960226 Sjt P. Pearson DCM,MM, 5-Foresters
George VI Cadet Forces Medal named, Lt P. Pearson DCM MM.
An associated ephemera archive with the group includes:
A letter to Pearson from Army Cadet Force Derby dated March 4 1955
An extract from the London Gazette dated September 13 1918 for the award of the Military Medal
A note sent to Pearson offering congratulations on his Distinguished Conduct Medal award from Captain and Adjutant 2/5 Sherwood Foresters
A letter to Pearson informing him of his Distinguished Conduct Medal award to his address at Woodhouse Street, Woodville
An extract note from the London Gazette regarding award of Distinguished Conduct Medal from Officer I/C Infantry records, together with a similar dated slip concerning the certificate for the DCM
A small card 46th Midland Division BEF with handwritten details of Pearson concerning the award of the Military Medal
A typed letter from Regimental Museum of the Sherwood Foresters concerning Pearson and his actions in WW1 dated March 28 2001.