Complete 1st edition Pokemon base set
IT'S the original Pokemon cards collection that's enough to pique the Pikachu of any anime fan from Los Angeles to Tokyo.
A complete base set of the first edition Shadowless Pokemon cards bought directly from original US publishers Wizards Of The Coast in 1999 is coming to auction with Richard Winterton Auctioneers on Monday, July 27.
The 102-card shadowless set has actually 103 cards as there are two different versions of the iconic Pikachu, numbered 58a for Red Cheek Pikachu and 58b for Yellow Cheek Pikachu.
The cards are housed in plastic sleeves from which they have hardly ever been removed and are in excellent condition.
They come together with a vintage 1990s official Pokemon trading card binder with the classic slogan 'Gotta catch 'em all!' on the cover.
The collection is estimated to fetch in the region of at least £25,000 and £35,000 – around $44,000 or ¥4,760,350 Japanese Yen – and is viewed as something of a Holy Grail for serious Pokemon afficionados all over the world.
With this in mind, the live, online-only UK auction has been specially timed to assist collectors across the globe.
Richard Winterton Auctioneers will be selling the set live from The Lichfield Auction Centre as Lot 1600 at 4pm on July 27 – 16:00 BST – via international auction platforms The Saleroom and Easy Live Auction.
This means the sale will happen at 8am in Los Angeles (08:00 PDT), 11am in New York (11:00 EDT) and at 12am on July 28 in Japan (00.00 JST) which is currently eight hours ahead of the UK.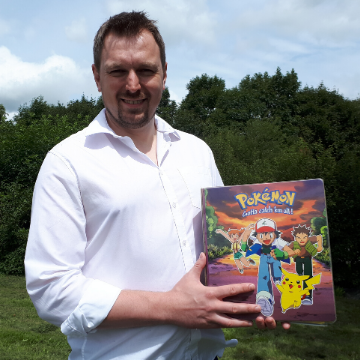 Vendor Nigel Brookes, pictured above, hopes the collection will remain whole and be taken on by a Pokemon fan who will cherish it.
As a milestone in one of the world's biggest media phenomena, it may even one day form the centrepiece of a Pokemon/anime museum in Tokyo or LA.
The collection was bought in 1999 for Nigel's 14th birthday as a special present. Unusually for the time, it was acquired online directly from the Wizards Of The Coast shop in the United States.
The family had an inkling that the set might one day be worth a fortune but were astounded to discover it could fetch tens of thousands of pounds.
Nigel, a self-employed sales consultant who grew up in Streetly, West Midlands, decided now is the time to give another enthusiast the chance to own the piece of history.
The father-of-three hopes the money will benefit his children as they grow up.
His eldest daughter Layla, 8, is a massive Pokemon fan and even offered to buy the set herself… for £6!
"It soon became apparent that this collection could become an ace up the sleeve one day," said Nigel, 33.
"We've looked after this for 20 years and hope it will go to someone who will respect it in the same way."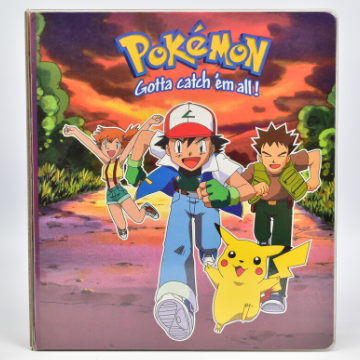 Above: The cards are housed in plastic sleeves from which they have hardly ever been removed and come in a 1990s official Pokemon trading card binder
A portmanteau of 'Pocket Monsters', Pokemon has become one of the world's biggest and most popular media franchises ranging from video games, trading cards and anime to movies and apps.
The Pokemon Trading Card Game based on the Nintendo franchise was first published in October 1996 by Media Factory in Japan and by Wizards Of The Coast in the US.
Each card depicts a Pokemon from the video games; players assume the role of a 'trainer' and battle each other by deploying their pocket monsters.
The collection is being marketed by Richard Winterton Auctioneers from The Lichfield Auction Centre, Fradley Park, Staffordshire WS13 8NF.
The family firm has moved all its live auctions online-only in response to the coronavirus crisis and has since staged record-breaking sales attracting thousands of bidders from all across the world.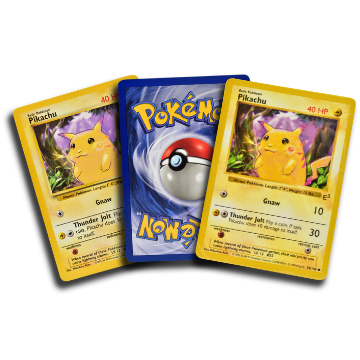 Above: The set has two different versions of Pikachu, 58a Red Cheek Pikachu and 58b Yellow Cheek Pikachu
Jon Price, from Richard Winterton Auctioneers, said: "This a very rare chance to buy a first edition set of the Shadowless Pokemon trading cards.
"They do not come up very often and this one is particularly special because it has been in the same family from new and carefully kept safe for more than 20 years."
Viewing is highly recommended, with high resolution photographs of each card available to view online. To view on The Saleroom click here.
Viewing in person, strictly by prior appointment only and with numerous Covid-secure procedures in place, can be arranged by calling 01543 251081 or emailing office@richardwinterton.co.uk.
For more information, contact Jon Price on 01543 251081 or at jon@richardwinterton.co.uk.