Ceramics cataloguer and antiques valuer jobs as Staffordshire auction house expands
ARE you looking for part-time work? Do you have a passion for ceramics, antiques and collectables? Are you a dedicated enthusiast looking to break into the industry?
The sizzle of satisfaction when your expertise identifies hidden treasure is unique – and we all know there's nothing like the thrill of an auction!
Now here's your chance to practise that passion and get paid for the pleasure!
Due to an exciting expansion in Staffordshire, we are looking for valuers and cataloguers to come and join our happy team.
Every single piece we handle is treated with the same degree of care.
We need knowledgeable team players who are well-versed at sorting general collectables and discovering that hidden gem!
With fortnightly two-day sales joined by thousands of people online and an acclaimed estate clearance team, our auction house is an Aladdin's cave for specialists and collectors alike.
If you have something to bring to the table, Richard Winterton would love to hear from you! Email him directly with your CV and covering letter to richardwinterton@richardwinterton.co.uk.
Specialist Knowledge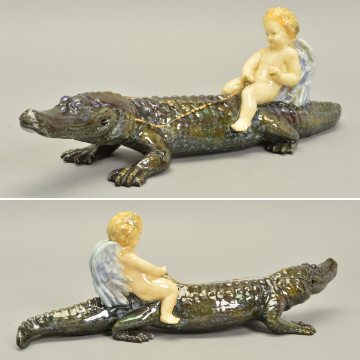 Would you have spotted this unusual crocodilian ceramic? It's a very rare Royal Doulton 'Boy On A Crocodile', which went on to sell at auction with us for £7,000.
A Happy Team
His name's Jack… Jack Point. But do you know your jokers from your jesters? This version of the classic Jack Point is a Royal Doulton Prestige limited edition figure HN3925, celebrating the 85th anniversary of the Royal Doulton Figure Collection.
The decoration is based on the pattern book design of the earliest version introduced in 1918 and this particular figure, number 37 of 85, sold at auction for £620.
Pictured behind Jack, the 43cm tall Royal Doulton Prestige figure 'The Charge Of The Light Brigade' HN3718, designed and modelled by Alan Maslankowski, sold for £1,250 in the same sale.
Auction Action
No elephant in the room when Princess Badoura HN2081 went under the hammer! The Royal Doulton porcelain figurine sold at auction with us for £1,800.
An Aladdin's Cave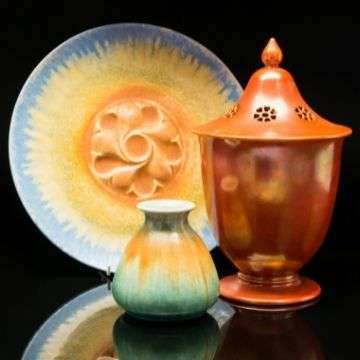 A glorious array of Ruskin pottery features in an upcoming Single Owner Collection.
Join Us
If you think this all sounds just the ticket for you, email your CV and covering letter directly to Richard Winterton: richardwinterton@richardwinterton.co.uk.