Beatles autographs sell for £3,000 at Lichfield auction
A RARE Beatles photograph signed by John, Paul, George and Ringo 58 years ago for a teenage fan has sold at auction for £3,000.
Sutton Coldfield grandmother Monica Hayes vividly remembers her mum surprising her with the precious autograph, signed during a break in filming at the ATV/ABC Alpha television studios in Aston, Birmingham.
It went under the hammer in Richard Winterton Auctioneers' Antiques & Home Sale on Monday, April 12, live online from The Lichfield Auction Centre.
Monica's mum Norah Sargent was working in the canteen at the studio when The Beatles went to grab a bite to eat in between filming.
Knowing her daughter was a big fan, enterprising Norah seized her chance and asked them for autographs.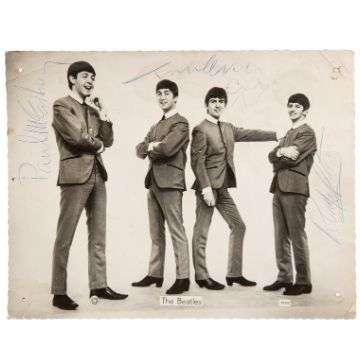 A publicity photo was produced – either by an assistant or a member of the band themselves – and John, Paul, George and Ringo all signed it in front of her there and then.
The photo shows the band wearing their trademark matching collarless suits.
The Beatles rarely had a day off in 1963, with a punishing schedule including recording sessions, concerts, TV, radio and other appearances.
Sophomore album With The Beatles – which was bookended by the landmark 45s She Loves You and I Want To Hold Your Hand – was released eight months after their debut Please Please Me and became an instant hit.
1963 also saw the band release three EPs including Twist and Shout – the best-selling extended play release of the year.
Later in the year they appeared on Sunday Night At The London Palladium in front of a TV audience of 15,000,000 viewers, gave the landmark Royal Command Performance and Lennon and McCartney were dubbed 'the outstanding English composers of 1963' by The Times' music critic William Mann.
Lichfield auctioneer Richard Winterton said: "Monica's photo showed the band wearing their trademark matching collarless suits, based on a Pierre Cardin design reproduced by Beatle tailor Dougie Millings, a style specific to that momentous year of 1963.
"We had a huge amount of interest in the photograph and it went under the hammer for a well-deserved £3,000."
The same Lichfield auction featured the copyright to 18 novels written by international bestseller Craig Thomas, selling for £36,000.
Credited as the true creator of the techno-thriller, Mr Thomas' catalogue included his landmark 1977 book Firefox which was made into the 1982 Hollywood blockbuster directed by and starring Clint Eastwood.
For valuation advice and auction enquiries, email office@richardwinterton.co.uk or telephone 01543 251081.