Abbots Bromley School Sale success
HUNDREDS of people flocked to Abbots Bromley School on Tuesday for a huge onsite sale of contents organised by Richard Winterton Auctioneers.
There was standing room only in Reid Hall where the November 19 auction took place with more than 1,600 people bidding online from 13 different countries as far away as China.
With 875 lots offered, the auction was presided over from the stage in a solid seven hours of selling 'tag-team' style by auctioneers Richard Winterton and his son Tom from 10am-5pm.
Every lot was meticulously catalogued and displayed for viewing across numerous floors at the school, which occupies more than 50 acres over two sites on either side of the High Street.
These included Georgian, Victorian and later furniture such as bookcases, desks, cupboards, refectory tables, stacking tables and chairs; dozens of musical instruments; science equipment including microscopes, Bunsen burners, tripods, beakers, flask and test tubes; nursery and play equipment, beds and household sundries.
Notable sales included a Georgian oak dresser from the dining hall (pictured below left) fetching £1,900; two Victorian oak refectory tables totalling £1,350; a trampoline which hit the heights of £1,200 and a selection of wooden lab stools making £1,500.
One Yamaha ebonised upright piano (above right) sold for £1,900 with another model fetching £1,200.
Another Yamaha upright which was on display in reception made £1,350.
Public viewing was held across two days – Friday, November 15 and Monday, November 18 – and hundreds of people passed through the gates on each day.
On auction day, a refreshments van kept bidders and staff alike fed and watered.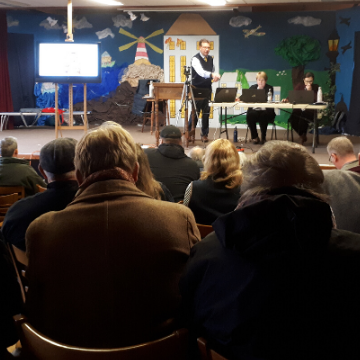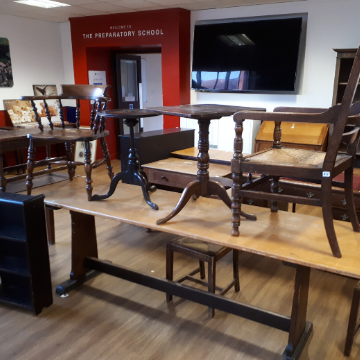 Auctioneer Richard Winterton said: "It was a stunning day at Abbots Bromley which was absolutely packed with nostalgia.
"Loads of former pupils came back to relive old memories and see if they could bid to take away a memento of their happy formative days.
"The comments we've had from people have been so pleasing – how flabbergasted they are at the work which has gone into this sale.
"I have to say that the attention to detail, teamwork, professionalism and sheer hard work from everyone has been second-to-none."
He added: "This auction was phase one – we are now looking forward to phase two in the spring, which will feature the remaining fixtures and fittings in the buildings.
"More information will be released in the new year."
See a full album of photographs from sale day over on our Facebook page.