£3,000 donated to We Love Lichfield
RICHARD Winterton Auctioneers has presented another £1,000 to the We Love Lichfield fund, elevating the total raised in just one year to £3,000.
The money has come from the family firm auctioning off items donated to charity by customers. We Love Lichfield patron Simon Price is pictured with Richard Winterton at The Lichfield Auction Centre.
The Bargain Hunt and Dickinson's Real Deal regular said he was delighted to have had We Love Lichfield as one of his chosen charities for the past year and is committed to raising more funds in the future.
"It's a real privilege to be able to present £1,000 to such an important fund which helps so many small local voluntary-run clubs and projects," said Richard.
"These organisations are the life-blood of our communities, doing so much good work, and I thank the We Love Lichfield team for giving up their time to help them."
Richard Winterton Auctioneers has numerous projects planned for 2019 to help raise more for We Love Lichfield including a special luxury sale at St Mary's in the Market Square on July 15 with proceeds going to the fund. More details will be announced soon.
Simon Price, patron of We Love Lichfield said: "Richard and his team are fantastic supporters of We Love Lichfield and of the district.
"Every town, city or district needs people and companies like Richard Winterton who really care about where they live and are able to make a difference.
"I'd like to thank everyone involved for their continued support which is heart-warming and we are very much excited by their future fund-raising plans."
We Love Lichfield is a local fund providing small grants to a wide range of projects across Lichfield district. All donations are invested through a permanent endowment fund by registered charity The Community Foundation for Staffordshire.
We Love Lichfield considers all applications from local groups and makes presentations to the organisations chosen twice a year.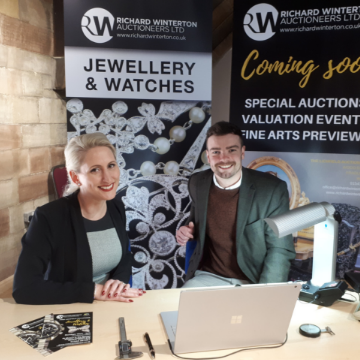 As well as free weekly valuations every Tuesday at the auction house in Fradley, Richard Winterton Auctioneers is now offering free specialised jewellery and watch valuations every Monday (except bank holidays) upstairs at St Mary's in the Market Square, Lichfield city centre.
The free valuations will take place from 10am-4pm and follow the auctioneer's partnership with St Mary's, a registered charity.
People are invited to visit the upstairs area to have any item of jewellery and watches assessed for free by an expert. The line-up will include gemmologist Heather Callaway, watch expert Ben Winterton (both pictured above at St Mary's) and vintage jewellery expert Louise Ludlam-Snook.